CONGRATULATIONS!
You Are Now Registered
DOWNLOAD YOUR WORKBOOK BELOW - You are now registered to study seven days with the #1 teacher for NCLEX Regina MSN, RN founder, CEO, and lead instructor of the ReMar Review. Your free NCLEX review course begins at 8:00 PM EST on December 26th (the day after Christmas)! This event will premiere LIVE on the YouTube and Facebook platforms. Be sure to check your email for your confirmation now to ensure that you are on the list for all event notifications and updates!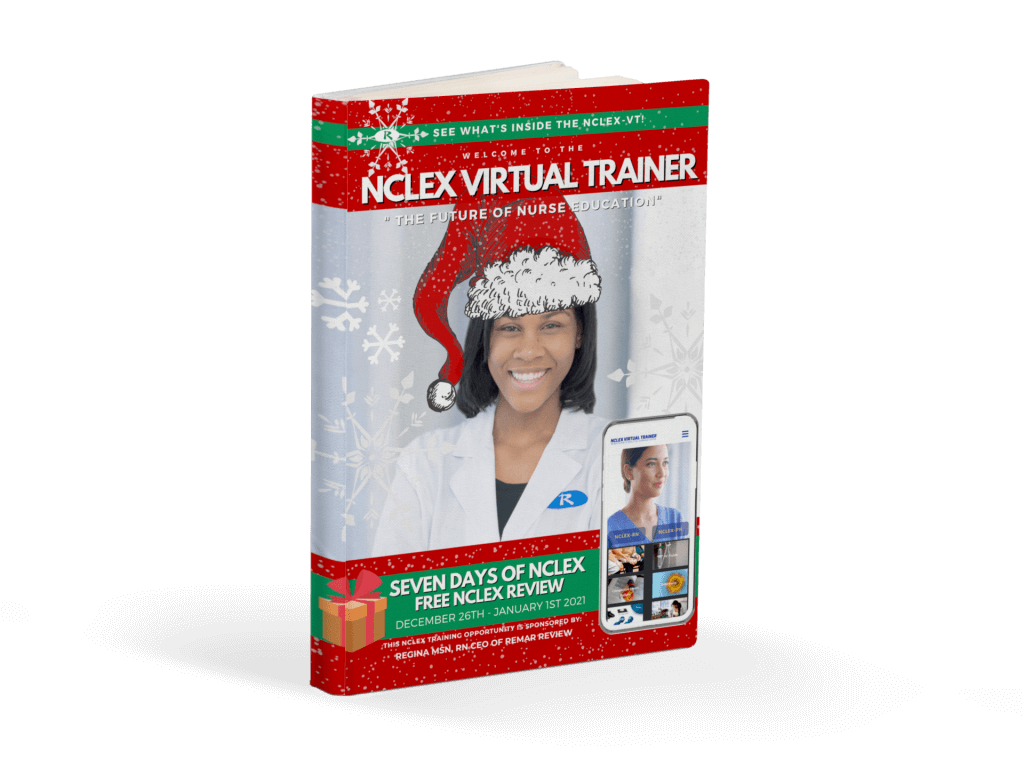 Mark your calendar! 
December 26th – First day of class & (Beginning of sale!) 

December 27th – Second day of class

December 28th – Third day of class

December 29th – Forth day of class

December 30th – Fifth day of class

December 31st – Sixth day of class

January 1st, 2021 – Final day of class
If you want to pass NCLEX in January, February, or March of 2021 this is your opportunity to get everything you need including the motivation, confidence, and content you need to pass NCLEX!
If you are graduating this Spring begin now for an early start preparing for your exit exams and NCLEX 2021 prep!
Get the complete NCLEX Virtual Trainer package with 3-months training, Virtual Trainer student workbook, Quick Facts for NCLEX book for $189 with free shipping, and Regina's MSN, RN special bonus "First Shift: How to Dominate Your First Two Years of Nursing" book!
The Seven Days of NCLEX sale begins, Saturday, December 26th, 2020 and ends on January 1st, 2021!
All you need to pass NCLEX
Learn How to Use the NCLEX Virtual Trainer (5-min Tutorial)
The NCLEX Virtual Trainer is where Regina helps you break down all of the core nursing content that you need to pass NCLEX with a 99.2% pass rate! Watch the video below.