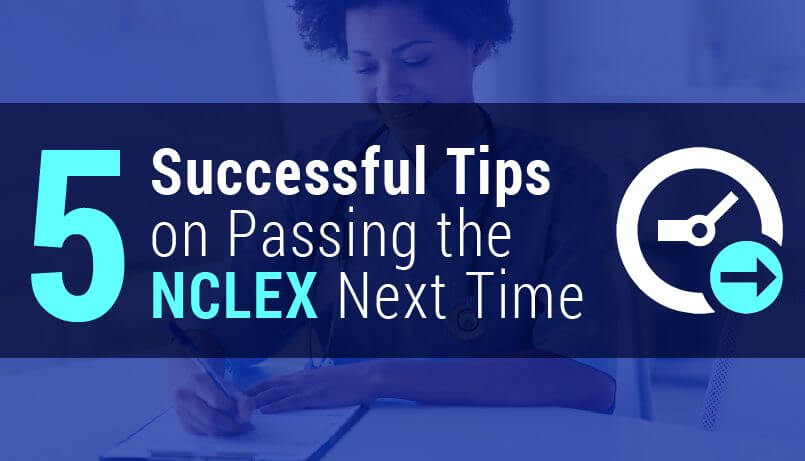 Failure to Success: 5 Successful Tips on Passing the NCLEX Next Time
After attempting your National Council Licensure Examination (NCLEX) exam, have you ever experienced that out of 265 questions, you couldn't even write 100 questions right and eventually failed the exam?
It is understandable that you must be very upset and shocked during that period of time when you checked your result in the mail or on-screen and saw the word 'FAILED' written in bold across it.
All that time spent on reviewing and studying the sample questions while preparing for NCLEX went to waste.
Anyone going through this can't help but self-doubt and question themselves, "Where it went wrong?" But you should know that this is not the end of your nursing journey, and you can stand up again to fight this battle again.
For that, you have to understand that you can recover from this bad dream and reach your original destination by following these tips.
Tip 1: Determine Why You Didn't Pass
If you are an aspiring nurse and failed the NCLEX exam, you have to understand where you went wrong to retake the exam effectively and to pass with flying colors.
Those who failed the NCLEX exam receive a Candidate Performance Report (CPR). Not everyone who failed has the same reason for failing. Be it from lack of preparation or concentration or simply just some family problems which didn't let them concentrate during their study time.
But fret not because every door got one key to open. That being said, all of your problems can be overcome if you are willing, and it requires your utmost attention.
A study conducted by NSCBN in 2008 found that retaking the NCLEX as soon as possible is necessary for those who struggle. Researchers found that postponing the test until graduation does not increase the probability of failure.
Alternatively, delaying after initial failure can increase the likelihood of a second failure. That's why when you once determine the reason for your failure, try to do things differently and don't repeat the same mistake twice.
Tip 2: Familiarize Yourself with the Exam
How familiar are you with the exam and its pattern? Do you understand its grading system? And how you are going to be evaluated?
Before retaking the exam, your second step should be familiarizing yourself with the NCLEX. Information regarding the exam is available on the NCSBN website.
Additionally, you will find valuable sources by attending workshops and Regina's NCLEX boot camp will be helpful for your NCLEX preparation. Also, you can go through the sample test plan workbook to understand the questions and topics effectively.
"The test plan workbook includes an in-depth summary of the content categories along with details about the administration of the exam as well as NCLEX-style item writing exercises and case scenario examples."
Tip 3: Schedule Study Time
Before getting the official test result, there is a gap of 45 days between the exam date and result date. Sometimes it takes more than five weeks to receive the official test result.
But if you are someone living in the state that offers unofficial results after paying some bucks. Don't waste your time and purchase the unofficial result, which is usually released a day after the exam date.
Scheduling your study time after failing is a vital step to effectively passing in the retake exam. Now that you have determined why you actually failed and in which areas you went wrong, don't delay your valuable time by concentrating on other things.
Map out a study time table and try to outline the part where you got lower marks according to your CPR. From your CPR, you will know in which areas you need to focus on more.
Then you have to consider how much time you should divide for the 8 sections. Divide your time on the topic that requires your utmost and focus attention.
For example, unless you have your CPR indicating that you passed the management of care section but failed the basic care and comfort area.
You don't want to waste your precious time prioritizing studying basic care and comfort area topics over the management of care topics since approximately one-fifth of the test concentrate on the management of care.
It is very crucial to understand which section needs more attention and how much study time you need for that. Try to schedule your calendar in a way where you will get enough time to revise before the exam.
Tip 4: Take Test Preparation Courses
If you are a nursing school student, you will probably know that nursing school is kind of random when it comes to teaching students. The teacher teaches stuff that is not even in the syllabus.
Well, you should know that NCLEX is not remotely random, like nursing schools, and they are very clear about what will come in the exams and what you should prepare before taking the exams.
The textbook material taught in nursing schools goes into detail, unlike what NCLEX expects from the candidates.
Their objective of putting out the exam is to know that you can work safely in the hospital without sending anyone to the morgue room. For which you need a license, and that is what they provide.
So, thoroughly study the NCLEX test plan and use reputable practice guides and question banks. You might as well take the course offered by the NCSBN that can be opted online.
Tip 5: Find a Study Partner or Study Group
Last but not least suggestion, find a good study partner or a study group to help you with the retake exam and to keep yourself motivated and not distracted by negative thoughts.
As you know, a bad apple can ruin ten good apples in a basket. Try to be the good apple of your study group and learn as much as you can. If needed, take help from your teachers or someone who passed the exam already with good marks.
Bottomline
Nothing is impossible if you are willing to work for it. With the above-given strategies which will aid you with your preparation toward passing your NCLEX exam successfully, you will not fail again.
Remember, this is not the end of the world, and certainly not the end of your nursing journey. You have handled life and its challenges through nursing school so that you can pass the NCLEX too. By implementing these techniques, you can overcome this hurdle in life too!
If you are ready to take your NCLEX prep to the next level, use promo code REMARNURSE to save an additional 20% off your order TODAY!