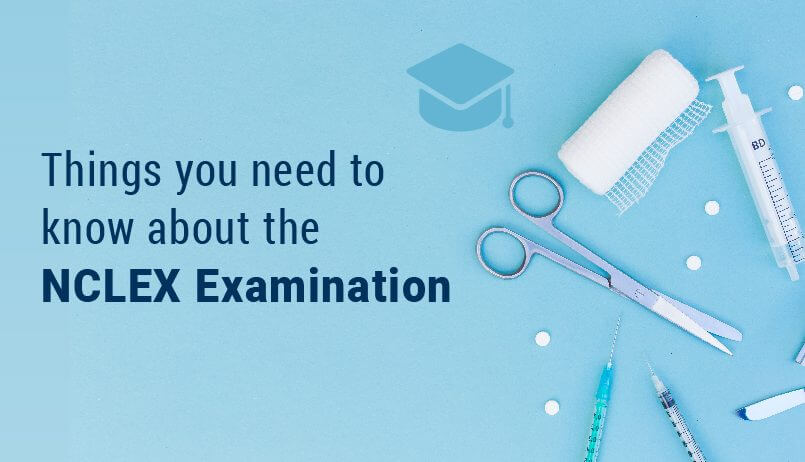 Things you need to know about the NCLEX Examination
Planning to take the NCLEX examination? Here's a quick guide to ensure you know everything there is to know.
What is the NCLEX examination?
The National Council Licensure Examination is a nationwide examination to determine whether or not you are ready to begin practice as an entry-level nurse in the United States and Canada since 1982 and 2015 respectively.
After you graduate from a nursing school, where you've mostly taken knowledge-based exams, you may appear for the NCLEX examination to receive your nursing license. This determines how critically you can utilize your thinking skills for the purpose of application and analysis.
What are the two types of NCLEX?
While the former is for registered nurses, the latter is primarily for vocational or practical nurses. Both the exams cover similar topics. However, the RN level test mainly deals with the supervision of others and management of care, while the latter is tailored towards working under RNs.
That said, your eligibility for these exams depends upon the last degree that you've acquired. Nurses with an Associate or Bachelor's degree can appear for NCLEX-RN, and those with a diploma in vocational or practical nursing are eligible for NCLEX-PN.
What are the key areas of focus?
Safe effective care environment
Health maintenance and promotion
Psychosocial integrity
Physiological integrity
Although each is crucial, there's a need to focus more on Physiological integrity, as it accounts for a significant number of questions.
What is the exam pattern for NCLEX?
Both of these exams are computerized and consist mostly of Multiple Choice Questions. However, there may be others involving fill in the blanks, multiple response, drag and drop, and so on.
Basically, there are three principal levels. Level one contains multiple-choice questions testing your general knowledge. Level two pertains to application and analysis, while the third level deals with open questions that require you to apply facts, rules, and processes.
What is the duration and assessment criteria?
Broadly, NCLEX exams are computer-adaptive tests. Every question is a response to your previous answer. Hence, based on your abilities, the total number of questions varies from 75 to 265.
You will have six hours to deal with them, of course, with breaks in between. Whether a candidate passes or fails the exam depends on how she performed in comparison with pre-determined standards. That is, there are no numerical scores for these tests.
Usually, the tests are conducted at regional Pearson Centers, and the State Board of Nursing sends the results within a month from the exam date.
How to apply?
Prior to your graduation, you will receive applications from your nursing school for the exams. If you submit your forms and licensure fees to the school, you will receive an Authorization to Take the Test (ATT) letter, following which, you can schedule your exam time and date.
What if I don't pass?
You will receive a candidate performance report that breaks down the different contents, and key areas of focus, of the examination. This evidently proves helpful for those who wish to reappear.
By clearly displaying the areas in which the candidate was above or below the passing standard, this report enables you to determine your strengths and weaknesses. Although your state may limit the number of attempts, the NCSBN permits you to take the exam up to eight times per year.
If you have passed, congratulations. All you have to do now is complete your licensing with the state. Obviously, the procedure may vary from state to state.
At present, the cost of the NCLEX examination is $200. Moreover, the individual State Boards of Nursing may determine additional licensure fees as and when they deem fit.